eFlash! 2022-03
A Few Words from the CEC Secretary
Canadian Electroacoustic Community
A sound network.
Greetings to all! I hope these spring tidings from the CEC will help to brighten your day. We have some exciting updates to share with you regarding JTTP 2022 and the project's new residency component, news about the eContact! journal and a call for nominations to the CEC Board.
eContact! 1.1 — Women in Electroacoustics. The CEC has reissued the inaugural edition of eContact! first published in 1998, with a new foreword by Hannah Bosma. The issue is dedicated to Andra McCartney (1955–2019), and features the activities of composers, performers, educators and researchers working in the international electroacoustic community.
eContact! 21.1 — Live Coding and Laptop Ensembles. The next issue of eContact!, our online journal for electroacoustic practices, is in the final editorial stages. For the first time we are dedicating an issue to the topic of live coding and laptop ensembles, and we are excited to share it with you. Keep an eye out for the publication announcement, coming very soon!
Board Nominations. Do you want to get more involved with CEC activities? We are accepting nominations for the CEC's Board of Directors until 20 April 2022. You can nominate yourself via our online form.
JTTP 2021 — Sporobole offers Residency to Colin Frank. The Jeu de temps / Times Play (JTTP) project now offers a residency component made possible through our partnerships with studios and institutions worldwide. Congratulations to Colin Frank (recipient of the inaugural Hildegard Westerkamp Award in JTTP 2021), whose project was selected by our partner Sporobole for an artistic residency in 2022.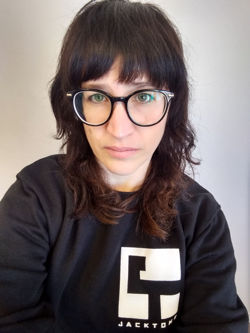 JTTP 2022 — Collaboration with CMMAS. The 2022 edition of JTTP will be held in collaboration with CMMAS — Centro Mexicano para la Música y las Artes Sonoras. Submissions this year will be accepted from young and/or emerging electroacoustic artists from or living in Latin America as well those from or living in Canada. Five prizewinners and four thematic award recipients will be selected from each region, and residency opportunities will be available in both Canada and Latin America. The deadline to submit is 31 May 2022.
That's our news for now! Please take note of the above deadlines if you want to submit to JTTP this year or wish to join the CEC Board.
Stay safe everyone,
Corina MacDonald
CEC Secretary
28 March 2022