eFlash! 2022-02
A Few Words from the CEC Board
Canadian Electroacoustic Community
A sound network.
This is Sarah Harris here — I am happy to be writing to you in my first eFlash! as a member of the CEC's Board of Directors. I am thrilled to be involved with the CEC and look forward to the next couple years on the board. Here are some updates:
Funding News. We're currently searching for financial opportunities to fund and further develop the Operating Plans of the CEC as described in the Strategic Plan for 2020–2024. These include our Cross-Canada Public Outreach Project, and additional supports for young and emerging electroacoustic artists, such as our plan to offer a residency to a selected JTTP prizewinner or thematic award recipient (as of 2021).
eContact! After a brief hiatus, eContact! is returning with an exciting collection of upcoming issues to be published in 2022 and 2023. Please have a look at the Call for Submissions page — we hope you will consider submitting your work to one of these upcoming issues: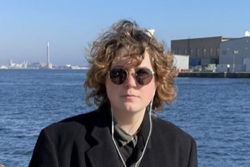 JTTP 2022 — Collaboration with CMMAS. Jeu de temps / Times Play is an iconic electroacoustic project that celebrates young and emerging electroacoustic artists from or living in Canada since 2000. All of the winning pieces from 22 editions of JTTP are archived on the CEC's website and it's an amazing listening resource for those new to electroacoustic creation, as well as a great opportunity for young electroacoustic artists to participate in a juried process. This year's edition of JTTP will be held in collaboration with CMMAS — Centro Mexicano para la Música y las Artes Sonoras, an organization based in Morelia (Mexico). With this in mind, the CEC is opening the submissions this year beyond Canada to include young and/or emerging electroacoustic artists from or living in Latin America as well those from or living in Canada. As always there will be an international jury assessing the submissions. For the 2022 collaboration, five prizewinners and four thematic award recipients will be selected from each region. Additionally, JTTP 2022 will provide two selected Latin American electroacoustic artists with residency opportunities in Canada and two Canadian electroacoustic artists residency opportunities in Latin America. The deadline to submit is 31 May 2022.
That's all for now. Stay warm and well this month!
Sarah Harris
CEC Board member
2 February 2022