English
Electroacoustic Seminars
Professional Production in Electroacoustics
Main Page | Venues | Session Schedule • Info for Host Institutions | Readings
Overview
> Information for the Host Institutions and persons participating in the seminars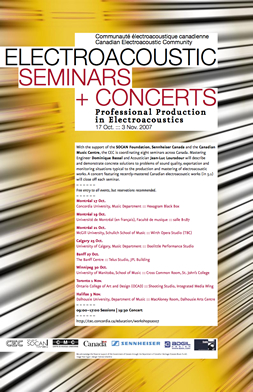 The Canadian Electroacoustic Community is pleased to announce that with the support of the SOCAN Foundation, Sennheiser Canada and the Canadian Music Centre, it is coordinating eight seminars across Canada in Fall 2007. Mastering Engineer Dominique Bassal and Acoustician Jean-Luc Louradour will describe and demonstrate concrete solutions to problems of sound quality, exportation and monitoring situations typical to the production and mastering of electroacoustic works.
Although the sessions are geared toward electroacousticians, they are also relevant to people working in recording technologies and communications. Other students, composers and the general public are invited to sit in and observe the proceedings.
A concert featuring mostly Canadian electroacoustic works mastered by Bassal (in 5.1) in recent years will close off each seminar.
Entrance to all events is free, but it is best to reserve in advance, as there may be some seating limitations. See the individual dates below for addresses and contact info.
Goals
This specialised educational project is designed to increase awareness about the importance of various aspects of production in electroacoustics, and to provide information and resources to students which will assist them in better preparing and disseminating their work in the professional milieu.
Seminar-Workshop Dates
The dates are from October 17 – November 3, 2007. The sessions are given in English, unless otherwise noted. Click on the Host Institutions for individual addresses and contacts.
Session Schedule
An overview of the Seminars follows; a more detailed breakdown and schedule for the indivual sessions can be found here: [F / E].
| | |
| --- | --- |
| 09:00–12:00 | Session 1: General Problems, Monitoring and Exportability Demonstration and listening session addressing some common issues in the electroacoustic milieu: questions of sound quality, exportation, deficient monitoring situations, etc. |
| 13:00–15:15 | Session 2: Mixing Process Analysis of sound sources, and the results of stacking and mixing varied sound materials to discuss the limitations (and potential!) of typical studio or recording techniques. |
| 15:30–16:45 | Session 3: Qualitative Analysis Workshop Qualitative analysis of pre-selected audio materials (in stems): practical steps on individual stems and on the mix, incorporating concepts presented during the earlier sessions. |
| 19:30–21:00 | Concert Mostly Canadian works recently-mastered (in 5.1) by Bassal. !! Note early concert start !! |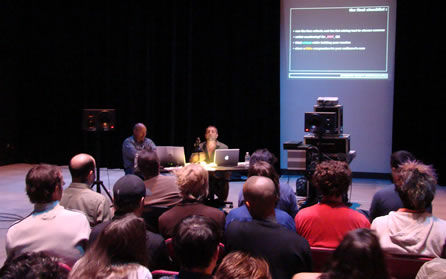 Production Team
Mastering Engineer — Dominique Bassal
Acoustician — Jean-Luc Louradour
Project Manager — jef chippewa
Production and Web Administration — Yves Gigon
Traduction Française | French Translation — Dominique Bassal
Traduction Anglaise | English Translation — jef chippewa
Consultation — Productions electro Productions (PeP)
Support
This project is possible thanks to the Government of Canada through the Creators' Assistance Component of the Canada Music Fund, administered by the SOCAN Foundation. The CEC also thanks Sennheiser Canada for their generous loan of equipment for the project, and the Canadian Music Centre for outreach and promotional assistance.
Host and Participating Institutions






Ontario College of Art and Design


Sponsors