DISContact! II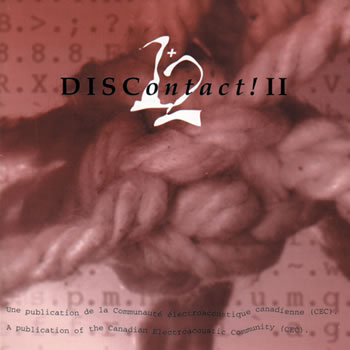 A Second Compilation of Works from the Members of the CEC
CD 2
Reflections on the pieces are here
[1] Andra McCartney (Toronto) Arcade '94 - 2'25" © SOCAN
Andra McCartney (Fleetwood, England, 1955) is a graduate student in Music at York University in Toronto.
Arcade '94, the sounds of Toronto video arcades in the fall of 1994, the voices of two teenage players.
[2] Sarah Peebles (Toronto) Nocturnal Premonitions - 2'18" © SOCAN / ASCAP
Sarah Peebles
http://www.interlog.com/~speeb
Sarah Peebles (Minneapolis, 1964) is a graduate of the University of Michigan, and has studied gagaku, festival music and contemporary music in Japan. Her music is available on The Aerial #5 CD, with a new release on Frog Peak Music in Spring, 1995.
Nocturnal Premonitions reminds me of that curious dream state where events or scenes pass by as vignettes. I wonder how best to bring this other world to boxed-in audiences sitting at attention, or whether to bother with the box at all.
[3] Randall Smith (Toronto) Fleeting Wheels of Changes [ex] - 2'25"
Randall Smith (Windsor, 1960) is a self-taught composer. He collaborates with filmmakers and dancers, and this work feeds his music. Randall is a winner of numerous prizes.
This piece is the opening movement of a larger work dedicated to Pierre Schaeffer and Hugh LeCaine. Using the sound of a train and of a drop of water, this composition celebrates the early history of electroacoustic music.
[4] E. C. Woodley (Toronto) Abide With Me (New York No. 1) - 2'42" © SOCAN
E. C. Woodley (Toronto, 1963) lived in England during the mid 1980's, often working in film as assistant to composer Michael Kamen. He began to record the sounds of New York City after studies at the Manhattan School of Music.
The city possesses a tenuous history and history must be redeemed. This piece uses footage recorded in Herald Square in 1991 except the clock tower bell, which also rings in 1964.
[5] Wes R. D. Wraggett (Toronto) Chants of the Apocalypse: Icarus Strictures Part Two; Fanfare: Parade (Words of War) - 2'57"
Wes R. D. Wraggett is the former Director of the Electronic Music Studios of the Royal Conservatory of Music (Toronto). Currently he is a freelance MIDI consultant and sound editor.
Pre-echoes from the great abyss. A struggle for understanding, a path of action.
[6] Mara Zibens (Toronto) Siquppalavuk/It Sounds Like Breaking [ex] - 2'40"
Mara Zibens (Toronto) is a self-taught composer working exclusively in the medium of tape composition.
The title of this piece refers to sound encroachments upon Inuit lands. The voices are those of Martha Hurley and Elizabeth Penashue. Produced with the support of the Toronto Arts Council.
[7] Bentley Jarvis (London, ON) What Are You Talking About? - 2'50"
Bentley Jarvis has been composing electroacoustic music for longer than he cares to remember. He is currently working on Where Was I?, a piece about forgetting and being lost.
What Are You Talking About? is about memory, communication and other peoples' dreams. Bentley intends to make it into a music video.
[8] Chris Meloche (London, ON) Extensions V [for Ionospheric Sounds, Trombone and Electronics] - 2'45" © SOCAN
Chris Meloche
http://www.usc.uwo.ca/chrw/urban
Currently, Chris Meloche (Windsor, 1957) involves himself in long duration (6+ hours) radiophonic pieces and wireless audio installations. Recent recordings have been issued on the Fax label of Frankfurt, Germany.
Extensions V is part of a series of works commissioned by trombonist Herb Bayley. This piece incorporates a manipulated, live trombone playing with a tape of nature's own radio signals which were recorded using a special VLF receiver.
[9] Sergio Villarreal (London, ON) On The Other Shore - 3'04"
Sergio Villarreal (Culiacan, Mexico) writes music mainly for the stage. He is currently working on an opera and on software for algorithmic composition and performance.
This piece was inspired by the mystical world of the Mayas. Sergio plans his compositions carefully for their emotional impact on an audience.
[10] Gregory Jay Lowe (Winnipeg) Song of the Turtle - 2'10" © SOCAN
Greg Lowe (Winnipeg) composes for radio, theater, planetarium shows and film. As guitarist, he has released a second CD, Greg Lowe, on Jazz Inspiration/MCA.
Song of the Turtle is inspired by a radio drama of the same title. The piece depicts the cosmic turtle laying its eggs.
[11] Diana McIntosh (Winnipeg) Processions [ex] - 2'35" © SOCAN
This excerpt, the last section, from Processions, for piano and two digital delays, is from a larger, theatrical music work called Murkings which deals with the pollution of the Great Lakes. Processions is inspired by the idea of moving from the darkness of pollution to light.
[12] Gordon Fitzell (Edmonton) Zipper Music - 3' © SOCAN
Gordon Fitzell (Portage-la-Prairie, 1968) is a MM composition student at the University of Alberta, having recently completed a work for four guitars and tape.
Taken from a collection of short pieces entitled Case Studies, Zipper Music is a constantly changing soundscape created by a collage of zipper sounds. The work is driven by an internal rhythm whose components are defined by timbral, textural, dynamic and gestural factors.
[13] Garth Hobden (Edmonton) Inukshuk - 2'54"
Garth Hobden (Edmonton, 1957) is an electroacoustic composer, instructor and recording engineer whose works have been presented in Canada and the USA. He has received numerous awards and commissions.
Inukshut is dedicated to the indiginous people of Canada's North. They have become, symbolically, the "inukshuk" by which Canada and the World will recognize and accomodate all aboriginal peoples' desires for self-determination.
[14] Shawn Pinchbeck (Edmonton) The Children Are the Future - 3' © SOCAN
Shawn Pinchbeck
http://www.freenet.edmonton.ab.ca/~resonate
Shawn Pinchbeck is active in Edmonton as a composer, performer and promoter of electroacoustic music. Recent projects of his include: film music, installations, performances and a CD release planned for April, 1995.
This piece was composed using interviews with students of Edmonton's Inner City High School. They spoke their thoughts and feelings about the environment. Thanks to Chameleon and The Banff Centre.
[15] Steven R. Heimbecker (Calgary) I Beat John Sobol at Pool Last Night - 2'58"
Steven R. Heimbecker ("The Prairies", 1959) is an independent composer, producer, sound researcher and installation artist. He works from his own studio: The Qube Assemblage for Art, Science and Music, Calgary.
I Beat John Sobolä is in a style of composition (Word Music) where the computer transcribes letters, words and sentences into musical notation which allows the author of any text to be the musical composer as well. The text is the music.
[16] Daniel Scheidt (Banff) Big Piano: Storm [ex] - 2'23"
Daniel Scheidt (Edmonton, 1956) is an independent composer. He creates computer instruments designed to interact with live performers. He also pursues an active interest in software as a compositional medium.
Big Piano is a software composition for solo pianist and computer-controlled piano. The work is defined by a computer program designed to follow the actions of an improvising performer and generate musical responses on a second piano.
[17] Darren Copeland (Vancouver) Darkness Colours - 2'57" © SOCAN
Darren Copeland
http://www.interlog.com/~darcope
Darren Copeland (1968) has been composing exclusively in the studio since 1985. He has been focusing on imagistic properties of environmental sounds since 1989 and is facing an impossible future in Realism.
From the shores, or through the pores of bombed-out uniforms, come torn snapshots of screaming woodlands and streaming warlords.
[18] Martin Gotfrit (Vancouver) Guitar With Hut20 - 2'20" © SOCAN (1994)
Martin Gotfrit
http://www.sfu.ca/~gotfrit
Martin Gotfrit (Montréal, 1952) teaches electroacoustic music and film sound at the School for the Contemporary Arts, Simon Fraser University, in Burnaby.
Hut20 is a software, created by Martin Gotfrit while in Banff, which responds to MIDI input. Guitar With Hut20 was recorded on December 28, 1994, live to DAT using a MIDI guitar, Wavestation, Proteus and SPX 900.
[19] Fred Semeniuk (Vancouver) Spraying - 2'40"
Fred Semeniuk is well involved in the electroacoustic music scenes in Montréal, Victoria, Calgary and now Vancouver. He enjoys entering contests and getting airplay around the world.
We must pay attention to all sounds. Life is too short to snuff any of it out.
[20] Barry Truax (Vancouver) Bamboo, Silk and Stone [ex from tape part] - 3'06" © SOCAN
Barry Truax
http://www.sfu.ca/~truax
Barry Truax teaches acoustic communication and electroacoustic music at Simon Fraser University. His compositions have received international attention. As well, he edited the Handbook for Acoustic Ecology and published the book, Acoustic Communication.
This piece was created with Randy Raine-Reusch. Most of the sounds are derived from the Chinese guzheng, a stringed instrument. The title refers to three of the natural elements of the world according to Chinese philosophy.
[21] Barbara Golden (Oakland, ca) Flaming Toast - 2' © SOCAN
Barbara Golden
http://www.idiom.com/~barb/
Barbara Golden (Montréal), living in California; is a member of WIGband, a songwriter and a multimedia artist. Coming in 1995 are: Barbara Golden's Greatest Hits Volume 1, a cookbook and CD package with tasty recipes and tasteless songs; and Golden Buns, an exercise video in the spring of '96.
Nonsense is an antidote to the harsh realities the world faces. Fun makes room for reflection, clears the mind for the spiritual repose needed, so that one might deal with one's fellow creatures in harmony, and peace to face problems together.
[22] Yasuhiro Ohtani (Tokyo) Brain Wash - 2'55"
Yasuhiro Ohtani (Tokyo, 1962) plays guitar and composes using Max. He is deeply influenced by contemporary, folk, noise and improvised musics, and challenges himself and technology in live situations. On August 6 and November 26, 1994, he produced and played a solo concert at the Theatre Poo Shinjyuku in Tokyo dedicated to the victims of the atomic explosion at Hiroshima.
[23] Christian Calon (Berlin) En vol - 3' © SOCAN
Christian Calon (Marseille, 1950), a Montréal-based audio artist, is presently living in Berlin. He is working on the realisation of volumes or variable sound fields to be visited, where the acoustical image of reality is the object of transformation and metamorphosis.
Horizontality. Through uneven, cloudy masses, way down, the surface of the earth. Fields, roads and factory chimneys, pale forests and hills. Slow motion through intangible and blurred shapes. Above, the stillness of the sky.
[24] Thomas Gerwin (Karlsruhe) Epilogon - 2'01"
Thomas Gerwin
http://www.thomasgerwin.de
Thomas Gerwin (Kassel, 1955) studied composition, philosophy and musicology. With CCRMA, he is constructing The International Digital Electroacoustic Music Archive (ideama) at ZUM, Karlsruhe. He also composes music for concerts, radio and installations.
The most important act in compostion is to listen. Sounds are born, live and die like other creatures. Sometimes they form higher organisms.
[25] Francisco Lopez (Madrid) El mundo depués de la invasion de los zor·pteros - 2'40" © S.G.A.E.
Francisco LÛpez is Professor of Insect Ecology at the Complutense University of Madrid, Spain, and is a self-taught electroacoustic musician. He has released more than 50 works on European and American labels, and is a compulsive networker!
This piece describes a world where the zorapterans, a strange group of tiny insects, suddenly become highly socially organized and ultimately conquer the world. This piece was recorded, mixed and mastered at Messor Studios (Madrid) in December 1994.
[26] Daniel Zimbaldo (Madrid) Ritual of the Rose - 0'31"
Daniel Zimbaldo (Madrid) is Professor of Counterpoint and Fugue, a conductor and a performer, and is presently the Composer/Councillor of Music for Spanish Television.
Strongly influenced by Transpersonal Psychology, Daniel Zimbaldo's music is a way of knowledge and reflection.
The CEC gratefully acknowledges the financial support of:

© CEC 1997, 98, 99
Last updated 99 xii Yves Gigon