DISContact! II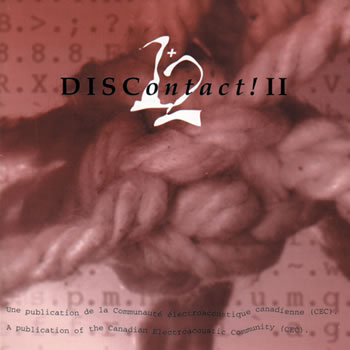 A Second Compilation of Works from the Members of the CEC
CD 1
Reflections on the pieces are here
[1] Ned Bouhalassa (Montréal) Move 1 [ex] - 3' © SOCAN
Ned Bouhalassa
http://pages.infinit.net/nedb
Ned Bouhalassa (France, 1962) is a composer of acousmatic works, inspired by Bayle, Zanési and Calon. 1995 found him at work on a new piece commissioned by ACREQ, and on a collaboration with Montréal choreographer Isabelle Choinière.
The excerpt here is a "one-time-only" mix of parts of the 1st and 3rd movements of Move 1. In this piece, I am attempting to represent animal / human movement using abstract and anedoctal materials. Thanks to Francis Dhomont and Jean Piché.
[2] Ian Chuprun (Montréal) Duet [for headphones] - 2'45" © SOCAN
Ian Chuprun
http://www.coven.net/7circles/
Ian Chuprun (Montréal, 1966) composes short works for tape. He is presently the director of the CEC.
Duet is a remixed excerpt of an unfinishable work in progress combining a hyperrealistic soundwalk with processed piano. It was made in the Concordia University Digital Electroacoustic Studio in Montréal.
[3] Francis Dhomont (Montréal) L'électro - 1'06" © SACEM
Francis Dhomont (Paris, 1926) is active in both Europe and Canada as a composer, and winner of the Bourges, Prix Magisterium. He has writen texts on theory and is a producer of radio shows. He is a Founding and Honorary Member of the CEC.
This piece is a little vocal game, resolutely optimistic, about the ineffable beauties of electroacoustic music. Moreover, it is a brief exercise in style that mixes bits of ancient voices with that of Marie Pelletier and recaptures the spirit of Puzzle, from 1975 - twenty years ago already. Ah, yes -
[4] Daniel Feist (Montréal) Diptych: Auxferd Nightburr'd November 2 a.m.; Our Child - 2'50" © SOCAN
Daniel Feist (Montréal) has been soundly obsessed forever. His interest in the creative applications of sound has not only expressed itself through electroacoustic composition but also through radio broadcasting and production, sound and language design for electronic media, and journalism.
This piece is a sonic transformation. The original text is translated to the medium of tape within a rhythmic musical structure. It was produced at the Concordia University Department of Music with the assistance of Kevin Austin.
[5] Michel Frigon (Montréal) Itinéraire au Crépuscule [ex] - 2'40"
Michel Frigon (Saint-Antoine-des-Laurentides, 1967) is a classically-trained pianist who also plays keyboard for a rock, jazz, rhythm and blues band. His desire to create led him to earn his degree under Michel Longtin and to win the Second Prize in the 1994 Radio-Canada Electroacoustic Competition.
Itinéraire au Crépuscule: sensation, atmosphere, intuition, perception, emotion, lyricism, impression with a cloud of intellect.
[6] Gilles Gobeil (Montréal) Le Vertige inconnu [ex] - 3'
Gilles Gobeil earned his Masters of Music in Composition from the Université de Montréal. He is the winner of numerous national and international prizes and has participated in several international festivals.
This piece won the Stockholm Electronic Arts Award prize in 1994 and was presented at ICMC94 in Denmark as well as at the World Music Days 1994 in Sweden.
[7] Monique Jean (Montréal) Embrace [ex] - 2'44"
Monique Jean is interested in the possibilties of sense offered by acousmatic music. Through her personal research, she develops this Êsthetic and explores different spaces for sound projection in association with artists from other disciplines.
[8] Kathy Kennedy (Montréal) Music Box II - 1'20" © SOCAN (1992)
Kathy Kennedy was first a visual artist, second a lyric soprano, and is now a sound artist working with all media to articulate the function of technology with the voice.
Music Box II is a dialogue between the public and the private. It is a collection of phone messages in response to an ad placed in the personals column.

[9] Frank Koustrup (Montréal) Woodstock to Detroit - 2'53" © SOCAN
Frank Koustrup (Sarnia, 1963) is a composer, video artist and photographer. He is presently assembling cassette compilations of over a decade's worth of his music. This past year he has been working part-time at the CEC office.
Woodstock to Detroit is an excerpt from the soundtrack to Landscape No. 1, a time-lapse film depicting an automobile journey from Montréal to Sarnia. The sound sources in this excerpt are recordings of sheets of metal and the lead-out groove from a cardboard phonograph record.
[10] Daniel Leduc (Montréal) Réponse impressionniste donnée par Josef K. lors d'une fin de soirée hivernale à une touriste française qui passait en face de la gare - 2'58"
Daniel Leduc (Montréal, 1965) is a radiophonic artist specializing in electroacoustic miniatures. He is working on his PhD in electroacoustic composition at the Université de Montréal.
This piece was realised using sounds produced with the Syter system of the GRM and outdoor sounds from Québec. This piece won the Radio Public Prize in ACREQ's 4th International Electro Video Clip Competition in June 1994.
[11] Robert Normandeau (Montréal) Spleen [ex] - 2'24"
Robert Normandeau (Québec, 1955) has released two CDs: Lieux inouïs and Tangram on the empreintes DIGITALes label. He earned his PhD in Electroacoustic Music from the Université de Montréal.
Robert Normandeau's work as a composer is essentially devoted to acousmatic music. To Robert, the sense of the sound-what it represents-is as important to the composition as the physical nature of the sound. He creates 'cinema for the ears'.
[12] Er Polen (Montréal) .TRANse.SEPTem. [Machina Mundi In Septem SÊc¸lum] - 3'
SELFtauGHT beyond Techno-Industrial, Er Polen chooses to use themes and concepts in his composition and sonic elaborations.
An electroacoustic allegory of the cross - the body of the cross is Human Resolution (Faith / Will), the arms are the Past (Dogmatism / Religion), the Future (Idealism / Social perspectives), and the Present (at the junction - Individualization / Technology).
[13] Laurie Radford (Montréal) enclave [ex] - 2'54" © SOCAN
Laurie Radford (Manitoba, 1958) has been active in composition, performance, administration and teaching. Recent activities include the writing of two chamber works, and the completion of a doctoral degree in music.
Sound is the energy and the source, the place of searching. Music is the expressive format, the place of reflection and imagination. Performance is the voice uplifted, the hand reaching out, the moment of action and seeing. enclave is a rumination upon personal environments.
[14] Jean Routhier en collaboration avec Christof Migone et Michel F. Côté (Montréal) Sous les décombres d'une brève hémorragie champêtre - 2'58"
This piece is the product of a semi-blindfolded collaborative improvisation. We didn't know much about each other before going into the studio. Jean recorded a few elements, thus creating a "Swiss cheese-like" structure for Chris and Michel to respond to.
[15] Frédéric Roverselli (Montréal) L'éveil de la cité - 2'30"
Frédéric Roverselli (Nice, 1960) is a teacher, composer, sound designer, multimedia artist, improvisor and songwriter. His ears are wide-open. He wants to hear the singing of the stars!
L'éveil de la cité is part of an interactive multimedia project where the user can explore urban sound environments which reflect preoccupations other than commuting-working-sleeping .
[16] Claude Schryer (Montréal) 3 Radioludes [ex] - 3' © SOCAN
Claude Schryer
http://www.cam.org/~schryer
Claude Schryer (Ottawa, 1959) earned his M Mus degree at McGill University (1989). He is a founding member of the World Forum for Acoustic Ecology and Orchestre vélo (1993). Presently, Claude is practising Vipassana meditation.
3 Radioludes is a sonic meditation on the theme of listening, travelling and emptiness. My "work" is to edit, process and mix natural, urban and human soundscapes using poetic juxtapositions, altered perceptions, re-contextualisations and reflections on the contradictions, anecdotes and magic of everyday life.
[17] Pascale Trudel (Montréal) Le Poisson qui cache l'oiseau - 2'53" © SOCAN
Pascale Trudel
http://www.cam.org/~sdragon/
Pascale Trudel (Québec, 1964) received her degree in Studio Art from Concordia University (1986) where she also studied electroacoustic music from 1985 to 1990. Her pieces have been played in concert, on the radio, on CD and as a soundtrack to artist's videos.
This piece was composed in 1995 using sounds recorded by the composer in zoos, parks, etc. This work is the first in a series about animals in cages and free.
[18] John Winiarz (Montréal) Jack in a (Music) Box - 2'55"
Laurie Rosewarne, accordion
John Winiarz (Saint-Boniface, 1952) teaches and has published Towards Creativity in Music Education, Music and Ecology: The Environmental Debate in Contemporary Music. He is producing CDs of his own compositions.
Jack in a (Music) Box for accordion and tape. The future? Youth. A better world? By insight into the web of life forms and environments. Let's give our children gentle guidance via creative pathways to fire their imaginations.
[19] Egils Bebris (Toronto) Hockey Night In Opera - 2'26"
Egils Bebris (Toronto) is a composer and visual artist who studied at York. He has received numerous awards. His most recent piece is Massing (1994).
This piece is a soundwalk through the classical concert hall and the sports temple.
[20] Gustav Ciamaga (Toronto) Possible Spaces No. 1 - 2'42"
Gustav Ciamaga (London, on, 1930), is an Honourary Member of the CEC. In November 1994 he celebrated his retirement from academic life with a concert of his compositions.
In any world, there are many possible spaces. The present work is in the form of a one-part invention.
[21] Janit Cross (Toronto) Pleasant Tasks - 2'56"
Janit Cross (Toronto, 1966) was a student of life prior to realizing her love for art. She is in the third year of the New Media Program at the Ontario College of Art.
Pleasant Tasks includes the following sound sources: a vacuum cleaner, washing machine, corn wisk, the sound of dishes being done, chopping and washing sounds, and a flushing toilet. Janet is learning to appreciate the details of life.
[22] Rob Cruickshank (Toronto) Starting From the House, Working Outwards - 2'48" © SOCAN
Rob Cruickshank
http://www.interlog.com/~robcruic
Rob Cruickshank (Dawson Creek, BC, 1964) has produced many works for tape, performance and installation. He is currently developing new works for tape and multimedia.
The title of this piece describes both the sound-gathering strategy for this piece and a means of effecting social change.
[23] Bruno Degazio (Toronto) Jolly - 2'15"
Bruno Degazio is a film composer and sound designer. His recent work includes the Oscar nominated documentary film The Fires of Kuwait and the all-digital, six-channel soundtracks to the IMAX films Titanica and The Last Buffalo.
Jolly is the second of Three Hypertrophies, a set of miniature dramas for electric violin and tape adapted from earlier song settings of poems by E A Poe at the request of violinist Adele Armin, who is featured in this recording.
[24] Robert Del Buono (Toronto) Harmonica - 2'51"
Robert Del Buono (Toronto, 1955) has been working with computer interactive systems since 1988. Currently he is involved with the development of a hybrid electroacoustic music workstation with the assistance of the National Research Council.
This piece, an electroacoustic blues using algorithmic techniques, was composed using samples of the composer in performance.
[25] Markos Lekkas (Toronto) Chronographica Delta - 2'43"
Markos Lekkas (Greece) lives and works in Toronto.
This piece is yet another attempt to negotiate secret deals with the bytes, until they turn themselves into wild cries, under the nose of the industry and the lovely institutions -
The CEC gratefully acknowledges the financial support of:

© CEC 1997, 98, 99 https://cec.sonus.ca
Last updated 99 xii Yves Gigon