DISContact! I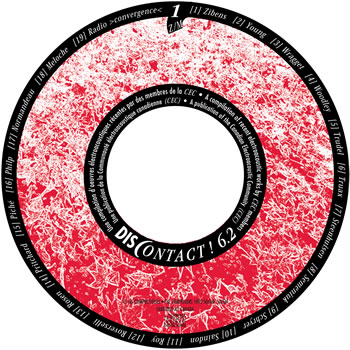 A Compilation of Works from the Members of the CEC
CD 1: Z - M
[1] Mara Zibens (Toronto)
Nocturne (White Streak on Film) 2'51"
This excerpt from a work-in-progress involves the juxtaposition of motifs from earlier compositions, and features an improvised aria by mezzo-soprano Brenda Archer.
[2] Gayle Young (Grimsby, ON) Flat Water 2'52" © SOCAN
Gayle Young has composed music for orchestral instruments, for electro-acoustics, and for two acoustic instruments she built in order to work with unorthodox tunings. She is the author of The Sackbut Blues / Blues pour saqueboute, the biography of Hugh Le Caine, Canadian pioneer in electronic music instrument design. She has also produced a recording of Le Caine's work. She is editor of Musicworks Magazine.
The title refers to a style (or preference) of canoeists who choose lakes or other non-flowing bodies of water, in contrast to the "white water" of rivers. The sounds were recorded in September, 1992, and edited with the assistance of Randy Smith using Sound Tools.
[3] Wes R.D. Wraggett (Toronto)
Le jardin des larmes rouillés (1991) 2'58"
Wes R.D. Wraggett was educated at the Royal Conservatory of Music and the University of Toronto. Former head of the Electronic Music Studios-Royal Conservatory of Music (1976-1991). Commissioned composer of music for concert, dance, theatre and broadcast media. Currently freelance MIDI and multimedia consultant. Winner of the 1991 Geneva prize for the Opera Titanic.
In the dark depths, tears-rememberance gone. Dedicated to Francis Dhomont.
[4] E. C. Woodley (Toronto)
A Ward Of The Government 2'43"
A Ward Of The Government was assembled using material recorded by Pamela Harris in 1973 and other material.
[5] Pascale Trudel (Montréal) Alchimie 2'14"© SOCAN (1992)
Pascale Trudel
http://www.cam.org/~sdragon/
Pascale Trudel was born in Quebec City in 1964. She obtained a BFA. in visual arts from Concordia University where she also studied electroacoustics. She has illustrated several issues of Contact! and the CEC Newsletter. Her works have been presented in Montréal (SCAQ, Galerie Powerhouse, uCuEä) and in Toronto (Music Gallery). She is a member of Montréal's Studio Onde.
A mysterious creature appears to be flying outside the studio's window. A broken machine suddenly starts running again and I can go on with my work. After many difficult transmutations, the first breath of an unknown world is heard.
[6] Barry Truax (Vancouver) Evening 2'57" © SOCAN
Barry Truax
http://www.sfu.ca/~truax
Evening is the third movement of Song of Songs which is based on texts from the Song of Solomon. Readings of these texts by Norbert Ruebsaat and Thecla Schiphorst are heard along with the voice of a monk from SS. Annunziata, a monastery in Amelia, Italy, plus recordings of a crackling fire made by Robert MacNevin for the World Soundscape Project tape collection. All sounds are processed with techniques of granulation to stretch and harmonize them such that their lyrical content is brought out. The full performance version of the work will include Lawrence Cherney playing English horn and oboe d'amore and computer graphic images by Theo Goldberg.
[7] Paul Steenhuisen (Vancouver)
Poland is not yet lost 1'08"
Paul Steenhuisen (b. 1965) studied with Louis Andriessen, Michael Finnissy, and Keith Hamel. He composes music for most media.
This trans-avant-garde vignette is #1 in a series sonically translating the appropriated iconography of various painters - in this case, Anselm Kiefer. The 2-track original was aged and charred on a NeXT computer, re-recorded with a Calrec Soundfield (MK IV) microphone, then re-NeXT-ified.
[8] Fred Semeniuk (Calgary)
Neanderthals in a phone booth 2'49"
Fred Semeniuk is finishing off an economics degree in Calgary but finds time to compose electroacoustically, while at the same time be his community's treasurer, teach first aid and CPR, and enjoy the outdoors.
Neanderthals in a phone booth was realized in his studio at home and at the University of Calgary electronic music studio using a real-time recording of the A.G.T. message which comes on if you leave the phone off the hook for too long. This message was digitized using the Macintosh system. Opcode's Studio Vision and Digidesign software orchestrated the system. Flange, chorus and echo sweetening were used sparingly. The Neanderthal's voice is a sample from Sample Cell but lengthened in duration. Letting it loop with different durations gives an echo-like fade away of the sound file. Do not play this piece backward.
[9] Claude Schryer (Montréal) A Soundwalk in the Rain of St. John's, NFLD 3' © SOCAN (1992)
Claude Schryer
http://www.cam.org/~schryer
sound Schryer radio producer North Montréal Letter Inter GEMS founding empreintes director DIGITALes composer Claude CEC Bay Banff Arts artistic artist administrator ACREQ
July 2nd, 1992, at 2.20pm, St. John's, Newfoundland. I am a radio artist in residence at Sound Symposium 6. I have a radio program to prepare. I walk, listen and think out loudä A Soundwalk in the Rain of St. John's, NFLD was broadcast for the first time on July 2nd, 1992 at 3.03pm on CHMR-FM, at Memorial University, St. John's. Special thanks to Don Wherry and Kathy Clark and to my fellow radio artists Dan Lander and Christof Migone.
[10] Denis Saindon (Montréal)
Pentacle 2'59"
Denis Saindon, a Montréal composer, was born in 1958. He studied at Université de Montréal under the direction of Jean Piché, Francis Dhomont and Marcelle Deschênes. He is presently working towards the integration of the performer in electroacoustic music, and wishes to create music that is free of any fixed medium, a music that can be actualized with every diffusion. Through the use of MIDI instruments, he wants to give the musician the control of the nuances of the music, its temporal unfolding and certain aspects of its timbre - manipulations which until recently could only be achieved through the use of the tape recorder.
Pentacle, for MIDI keyboard controlling a sampler and a Proteus/2 synthesizer, expresses the symbolics of the number 5. The symbol of the Word made flesh. Based on the structure of the pentagram, this music tells of the journey of human fulfilment. This electroacoustic music was conceived to be played completely live by a MIDI controller with keyboard. This excerpt is taken from the stereo recording of the version read by sequencer.
[11] Stéphane Roy (Stanford, ca) Mimetismo 2'56" © SOCAN
Arturo Parra, guitare/guitar
Stéphane Roy
http://www.culturenet.ca/cmc/dac_rca/fra/p_/roy-stephane.html
Stéphane Roy was born in 1959. He has received prizes and honourable mentions at the Newcomp competition (USA, 1989), the Luigi Russolo competition (Italy, 1989), Bourges (France, 1991) and Ars Electronica (Austria, 1992). His works have been performed in France (Nice and Bourges), Norway (NICEM concerts in Oslo), the United States (Cambridge), as well as in many Canadian cities. He is completing a doctorate in composition. He is working on developing a method of analysis for electroacoustic music based on perception theory. This investigative process has had a direct influence on the shaping of his works. He will be producing a work at CCRMA in California in '92-93.
Imitation is the basis of this work. Imitation of an acoustic source by an electronic source opens the interior space of this work - a space composed of multiple networks and internal reinjections, of abstract compositional games between pure structural entities. The acoustic and electronic components of Mimetismo interact and imitate each other, at times they blend with a sonic material in constant evolution. In this work, the guitar abandons its traditionnal role of soloist and its timbres are mixed with unpredictable materials. This work is a commission from guitarist Arturo Parra, with support from the Canada Council.
[12] Frédéric Roverselli (Montréal)
Silence, j'écoute 2'21"
Frédéric Roverselli, musician and sound and multimedia designer, is specialised in the use of new digital technologies. His compositional style integrates all sound materials, be they musical or concrete, and is inspired as much from contemporary and popular music. He also conceives sound environments for video installations, museums and interactive documents (cd-rom). As a musician he is active with PAPA BOA, a structured improvisation group.
He is presently working, within the NEXUS group, on a new cd-rom project which explores the contemporary sound environment of the city of Montréal: Silence, j'écoute (Silence, I am listening).
[13] Robert J. Rosen (Canmore, AB)
Signal Hill 2'52"
Assistant Director of Music Programs at The Banff Centre for the Arts and resident composer of Kokoro Dance, Robert J. Rosen has worked with Lutoslawski, Cage, Mather and Schafer. His works have been performed throughout Canada, in Europe, the United States and Australia.
Signal Hill was inspired by sound walks in the high winds on Signal Hill, Newfoundland at the time of the fisheries' closure. Airplane credit: Claude Schryer.
[14] Bob Pritchard (Vancouver) Twisted Mirror, Shattered Dream 1'38" © SOCAN
Bob Pritchard received his Doctor of Musical Arts in Composition from the University of British Columbia in 1992, studying with Keith Hamel. He writes for both acoustic and electronic media, and is currently teaching at Douglas College in Vancouver.
Remnants of impressions, rags of emotions, a harshness of experience. Onamatopoetic feelingsä Twisted Mirror, Shattered Dream was composed on a NeXT computer in the UBC Computer Music Studio using SoundWorks and Csound for recording, synthesis, processing, and re-processing.
[15] Claire Piché (Montréal)
Qui suis-je? (1991) 2'01"
Claire Piché has won the public's award (prix du public) and the radio listeners' award (prix des auditeurs radio) at the "Concours lectro-vidéo clip ACREQ/ATARI" in October, 1991 for Qui suis-je?
Qui suis-je? is an enigmatic electro-acoustic clip, based on a totally fictional scenario. A man sentenced to death is led from the cell of an old underground prison to the public square where he is to be executed.
[16] Jamie Philp (Edmonton) Victories Over Us (1991) 3'04" © SOCAN
This is an excerpt from a composition for an installation presented at the 1991 Works Festival with Modern Dance Artist Brian Webb and visual artist Blair Brennan. The work started as improvisations using Laurie Spiegle's Music Mouse and MIDI Paint. I used many sources of inspiration for the harmonic component: sound chords, mystic chords, quartal harmony and ethnic scales. On top of these short improvisations I built up parts on a variety of instruments including electric guitar, nose flutes, voice and zube tube, which added to the human quality of the piece. The text portions were selected from Evangelist surmons taken out of context. The work received an ARIA (Alberta Recording Industry Association) award in 1992.
[17] Robert Normandeau (Montréal)
Colère [3e mouvement de éclats de voix (1991), dédiée à Martine Blain] 2'53"
Robert Normandeau obtained a DMus in Composition from Université de Montréal under the direction of Marcelle Deschênes and Francis Dhomont. Founding member of the CEC. Member of ACREQ. Prize-winner of the Bourges (France, 1986, 1988), the Phonurgia-Nova (Arles, France, 1986 and 1987), the Luigi-Russolo (Varese, Italy, 1989, 1990), Noroit-Léonce Petitot (Arras, France, 1991) and Stockholm (Sweden, 1992) international competitions. Specializes in acousmatic composition (since 1984).
Éclats de voix can be translated as Voice Fragments, and also has a second meaning translatable as Shouts. IThis title has two interpretations, the breakup of the voice into little pieces - very little pieces, even microscopic. The second meaning, suggests anger, like that is found in children, which suddenly appears and disappears like a tornado. The idea was to dwelve deeply into the energy of the voice of an eleven year old child, Marie-Hélène Blain, who provided the only sound material of the work. clats de voix was commissioned by the radio program Sons d'esprit of CKUT-FM in Montréal (Canada Council). The work was awarded the First Prize and the Public Prize ex-Êquo at the 2nd international Competition Noroit-Léonce Petitot (Arras, France, 91), and also received a Mention at the Stockholm Electronic Arts Award (Sweden, 92).
[18] Chris Meloche (London, ON) Electric Interlude 3'01" © SOCAN
Chris Meloche
http://www.usc.uwo.ca/chrw/urban
Chris Meloche (b. 1957) is a London, Ontario based composer who been active in electroacoustics since 1980. Recently, his compositions have been broadcast internationally on Radio Moscow, Voice of America, Radio France International and Radio Budapest. His current work also involves the use of radio waves as well as computer music systems and their applications in installations and interactive performances.
Composed and recorded specifically for DISContact!, in October 1992 at Rough Cut Studio, London. Premiere: Articte, Windsor, November 27th, 1992.
convergence radio (1989) 27'32"
[19.1] Hildegard Westerkamp (Vancouver) [in English] 2'25" © SOCAN (1989)
[19.2] Hildegard Westerkamp (Vancouver) [in English] 7'02" © SOCAN (1989)
[19.3] Robert Normandeau (Montréal) [en français] 13'48"
[19.4] David Olds (Toronto) [in English] 4'17"
Excerpts from "Four Radio Report on the 1989 CEC Electroacoustic Days, convergence at The Banff Centre for the Arts, Alberta". These radio programs were realized with the assistance of the Media Arts Service of the Canada Council, the Music Gallery (Toronto) and The Banff Centre for the Arts. Claude Schryer was artistic coordinator of convergence. The four part radio series (2 in French, 2 in English) is available on cassette from the Canadian Electroacoustic Community (CEC).
The CEC gratefully acknowledges the financial support of:

© CEC 1997, 98, 99
Last updated 99 xii Yves Gigon