DISContact! I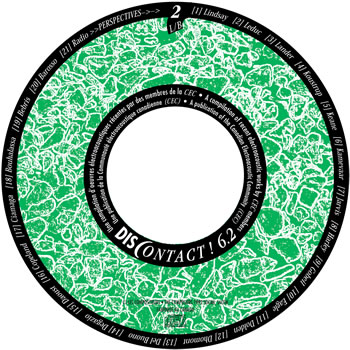 A Compilation of Works from the Members of the CEC
CD 2: L - A
[1] Dave Lindsay (Toronto) Two Minute Warning 1'52" © SOCAN
David Lindsay splits his time between computer graphics and computer music. Current interests involve bringing a pop esthetic to his electroacoustic work by using classic and modern Rock and Roll guitar techniques and dynamics in composition.
Today's commercial synthesizers and computer music instruments are capable of a wide variety of sound collages at the touch of a key. Some animate classic electronic images, while others slice with digital perfection. This piece uses factory and composed sounds to reclaim the dynamics of earlier electroacoustic music and merge it with modern digital sound painting.
[2] Daniel Leduc (Montréal)
Contact! 0'48"
Daniel Leduc holds a Bachelor of Music from the Université de Montréal where he has recently completed a Master's degree in electroacoustics under Francis Dhomont. He is now completing a doctorate under Francis Dhomont and Jean Piché. In 1990, he won the second prize, in the electroacoustic category, of the Young Composers' National Competition organized by La Société Radio-Canada and the Canadian Broadcasting Corporation. As a composer, he expresses his concern for the radiophonic aspect of electroacoustics through the use of the electroacoustic drama or by composing soundscapes. He was president of the CEC.
For this DISContact! disk, I prepared, directly from St-Lambert, a Contact! clip quite in the outskirts. Enjoy!
[3] Dan Lander (Toronto)
Virtual Reality: The First Swim 2'59"
Dan Lander is an audio artist living in Toronto. His pre-recorded works for radio are composed from recordings made of both the natural and media environments, with the recorded spoken word taking prominence. This "writing with sound" allows for a reading of the referential, rather than the musical aspects of the aural realm.
My first experience of (or in) virtual reality was Robert Mc Fadden's Picture Yourself in Fiction which was produced as part of The Banff Centre's Art and Virtual Environments project. Speaking into a microphone as I worked my way through the program, I later gained access to my verbal responses via digital audio editing. Virtual Reality: The First Swim was produced at EARS Studio, The Banff Centre, utilizing the Soundtools digital editing program.
[4] Frank Koustrup (Montréal) Frostie 2'55" © SOCAN
Frank Koustrup, originally from Southwestern Ontario, has studied record production, multimedia and electro-acoustics, and has lived in Vancouver and now Montréal.
In 1985, a man ordered a Frosty from a Wendy's drive-thru window. Frank was there - with a tape recorder.
[5] David Keane (Scarborough, ON) Wervelwind (1991) 2'52" © SOCAN
David Keane

Leo Verheyen, trombone
In Wervelwind - Flemish for "whirlwind" - the trombonist performs while continuously rotating, the shifting direction and reflection generating a powerful effect. This excerpt is from a recording in preparation for a CD of five works for solo wind instrument and electronics [QUM, release: March, 1993]. The rotation was captured by a single microphone and re-stereoized using the Focal Point 3-D sound process.
[6] John Kamevaar (Toronto)
Negatio 2'03"
John Kanevaar was born in 1950 at Utrecht, Holland. He graduated from the Ontario College of Art in 1979, having focused on sound studies (with Udo Kasemets) and sculpture (with Nobuo Kubota). As a visual artist he works in a variety of media, primarily in the exploration of linguistic themes. As a musician/composer, he has performed, since 1981, throuhout North America, Europe, and Japan as a member of the CCMC, a free-improvisation ensemble. In 1987, he formed the project Kaiser Nietzsche, a sound composition collective.
The title of this work is inspired by Spinoza's famous statement: Omnes determinatio negatio est. (Every determination is a negation.) The work is the result of a "patch" programmed on an Ensoniq EPS 16+ sampler. Various processes, including random modulation of frequency and loop position, are applied to a short sample of microphone feedback effecting a combination of the aleatoric with a certain degree of predictability. Any instance of the same keypress will initiate a new sequence of events.
[7] Bentley Jarvis (London, ON)
Last Night 2'47"
Bentley Jarvis divides his time between composing, teaching at the Ontario College of Art, and being a model husband and father to wife Susan and children Anna and Simon.
Last Night is an excerpt from a work in progress. It was written using Cakewalk software controling a Turtle Beach Multisound card, TX7, CZ101, Arp Avatar, Oberheim 0B1, MPU101, DVP1, SPX90, Electro-Harmonix Vocoder, and hand crafted analog modules.
[8] James Harley (Montréal) Night-flowering… not even sand-II (1990) 2'55" © SOCAN (1990)
James Harley
http://www.usc.edu/go/polish_music/composer/jharley.html
James Harley is presently completing his doctorate in composition at McGill University. His electro-acoustic compositions have been performed and broadcast in Canada, USA, South America, Europe and Japan.
Night-flowering… not even sand-II was composed in the EMS of McGill University using csound synthesis software and the composer's chaotics compositional software. The texture of the music is "granular" and explores the fascinating world of 31 tone equal temperament. The inspiration comes from a visit to sand dunes in the Arabian Desert, and the title is taken from the poetry of Thomas Merton.
[9] Gilles Gobeil (Montréal)
La ville machine 3'06"
When fact abolishes deed, when threat becomes expectation, thought compels the impossible. They believed in it. All of them. An electroacoustic drama. With the voices of François Godin and Hélène Mondoux. Thanks to the students of Nouvelles Querbes School. La ville machine was commissioned by ACREQ for the 7e Printemps électroacoustique with support from the Canada Council. La ville machine was composed in collaboration with writer Lyette Limoges.
[10] David Eagle (Calgary)
Hs¸an for Guzheng (Chinese zither) and tape] 3'03"
David Eagle studied music at McGill Unversity in Montréal, the Staatliche Hochschule für Musik in Freiburg, Germany, and at the University of California, Berkeley. As well as composing chamber and orchestral music, in recent years he has cultivated an interest in computer applications to composition and improvisation. Since 1990, he has been Professor of Theory and Composition and Coordinator of the Electroacoustic Music Studio at the University of Calgary.
Hs¸an was commissioned by Zhang Yan with financial assistance provided by the Alberta Foundation for the Arts. The tape part was realized at the University of Calgary Electroacoustic Music Studio using a Macintosh IIcx computer with SampleCell. "mysterious strings" / plucked strings on an ancient instrument / a sound emerging from the distant past / resonating through the centuries / enduring and timeless / a witness to the present.
[11] Paul Dolden (Vancouver)
Physics of Seduction. Invocation #2 (1991) 3'03"
Vivienne Spiteri, harpsichord
Speed creates pure objects. It is itself a pure object, since it cancels out the ground and territorial reference points, since it runs ahead of time to annul time itself, since it moves more quickly than its own cause and obliterates that cause by outstripping it. Speed is the triumph of effect over cause, the triumph of instantaneity over time as depth, the triumph of the surface and pure objectality over the profundity of desire. Speed creates a space of initiation which may be lethal. Its only rule is to leave no trace behind. Triumph of forgetting over memory, an uncultivated amnesic intoxication. The composition was commissioned by harpsichordist Vivienne Spiteri with assistance from the Canada Council.
[12] Francis Dhomont (Montréal) Studio de nuit 3' © SACEM
Francis Dhomont (composer, teacher, acousmotrope). He is an Honorary Member of the CEC.
Where we discover the acousmotrope among his vanities and his works. A moment of nocturnal composition - half reality, half dream - for Figures de la nuit, a radio work commissioned by David Olds for the program "Transfigured Night", on CKLN-FM - Toronto. Apart from the artist's voice, we can hear - in order of appearance - the voices of Laurie Radford, Pierre Daboval, Justice Olsson, Marie Pelletier, Jean-François Denis and Pierre Louet.
[13] Robert Del Buono (Toronto)
Solarsystemless 2'51"
Robert Del Buono became interested in algorhithmic composition while attending a seminar at the Music Gallery in Toronto in the spring of 1989. He studied with Bruno Degazio in 1991 and 1992 and is presently devoting the majority of his time to his writing. As well as composing for television, he arranges and provides recording and technical services to artists in need.
Solarsystemless explores the journey of a voice attempting to establish contact with its beginnings.
[14] Bruno Degazio (Toronto)
Tesla's Dream 2'59"
Tesla's Dream is an excerpt from the multimedia opera NT: The Man Who Invented the Twentieth Century. Tesla the great inventor, dreams of the universal benefits brought to humanity by electricity. He dreams of the harnessing of Niagara and other monsters of nature. He foresees a worldwide electrical communication system bringing people together into a "global village". He sees, in his dreams, the end of war and the universal happiness of mankind.
[15] Yves Daoust (Montréal) Joie 2'38" © SOCAN
Dedicated to the composer Gilles Tremblay, this miniature was premiered on October 29th, 1992 during a concert dedicated to the 60th anniversary of the composer. Without wanting to "pastiche" the Tremblay style, I searched for a "colour" to evoke the brillant and sparkling side of his writing. A volley of bells, extracted from a preceding work (Resonnances, created at GMEB, in January, 1992) supplied me with the material and the structural idea. The work begins with the realistic sound of Angelus sounding at the Notre-Dame of Montréal church. This bell, for better or for worse, integrates with the ambient noise of an important artery of the city, and will little by little disappear into the sonic atmosphere and transform itself into a musical "halleluia".
[16] Darren Copeland (Toronto) Zero and One: Stations and Directions 3'13" © SOCAN (1992)
Darren Copeland
http://www.interlog.com/~darcope
Sources found here and there in someone else's catalogue. / Sources modified. / And made anew. Joseph Cornell: New Yorker, surrealist, avid collector of nostalgic oddities, and maker of strange, illuminous and spacious worlds that actually take up as much room as a cupboard or jewellery box. His approach to collage serves as an inspirational guidepost for my work these last couple of years. I am not exactly sure how this is so, but my experience suggests to me that it might have something to do with a special intuitive pull to the materials that are brought into play. Perhapsäalong the lines of always remembering to leave space for dreaming one's way through the task at hand.
[17] Gustav Ciamaga (Toronto)
It's about time 1'45"
Gustav Ciamaga is an Honorary Member of the CEC.
It's about time was composed a few years ago and reworked in 1992 as an aural example for a public lecture on algorithmic composition. The shape of the piece is a simple rondo form (ABACA) where B is the theme and all other sections are algorithmic variations.
[18] Ned Bouhalassa (Montréal)
Attraction 3'04"
Ned Bouhalassa is a composer of acousmatic art works. A community radio broadcaster, he is also involved in preparing numerous electroacoustic concerts. A student of Francis Dhomont and Kevin Austin, he teaches at Concordia University and at Musitechnic. He was president of the CEC from 1990-92.
Produced through the use of digital editing, this is the first part of a work that has yet to be completed. Do not look for any music or plot (unless it's of your own invention). My goal in this piece is to shape precise and complete forms, resembling those found in the work of certain visual artists.
[19] Egils Bebris (Toronto)
Immersion 2'55"
Immersion is an excerpt from A Mercurial Sea of Voices Fluttering, a work which metaphorically suggests the idea that one has fallen in the river and is being swept downstream into the ocean. All the sound materials are derived from the human voice by means of digital sampling and signal processing.
[20] Sergio Barroso (Vancouver) Tablao (1991) 2'36" © SOCAN
Tablao was composed in the fall of 1991 at the Laboratorio de Informatica y Electronica (LIEM) from the Centro de Arte Reina Sofia in Madrid, Spain and at my studio in Vancouver. Flamenco music had been around my ears since my childhood, on the radio, recordings, TV, the readings and plays of Garcia Lorca and the stories of old relatives in Cuba, and later on during my visits to Andalusia. The place where Flamenco music is performed is usually called Tablao. Originally written for guitar and electronics, the piece contains the essence of different instrumental elements of Flamenco music in a dissected way. The piece was commissioned by Spanish guitarist Flores Chaviano with the assistance of a grant from The Canada Council. The present is an excerpt without the guitar part.
perspectives radio (1991) 21:41"
[21.1] Wende Bartley (Toronto) [in English] 9'40"
[21.2] Claude Schryer (Montréal) [en français] 6'45" © SOCAN (1991)
Claude Schryer
http://www.cam.org/~schryer
[21.3] Philip Szporer (Montréal) [in English] 5'16"
Excerpts from "Six Radio Reports on the 3rd CEC Electroacoustic Days 1991, perspectives, at Concordia University, Montréal" were realized with the assistance of the Media Arts Service of the Canada Council, the Department of Music of Concordia University in (Montréal), the Music Gallery (Toronto) and The Banff Centre for the Arts. Kevin Austin was Artistic Director of perspectives. The six part radio series (2 in French, 4 in English) is available on cassette from the Canadian Electroacoustic Community (CEC).
The CEC gratefully acknowledges the financial support of:

© CEC 1997, 98, 99
Last updated 99 xii Yves Gigon