English
Biographies
Kevin Austin
Président d'honneur du projet et conservateur de la collection /
Project Patron and Custodian of the Collection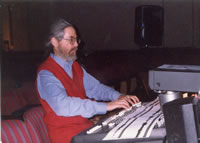 Compositeur et professeur, Kevin Austin est le fondateur des studios de musique électroacoustique de l'Université Concordia (1971). Son activité créatrice s'étend de l'improvisation électronique en direct (live electronic) au travail avec des danseurs, des artistes visuels, en passant par la composition en studio et pour instruments acoustiques.
Au début des années 1980, il est à l'origine d'une série de concerts et est cofondateur, avec Jean-François Denis, de la CEC en plus de constituer l'Archive électroacoustique de Concordia à partir des pièces proposées pour les concerts. À la fin des années 1980, après la création, par Jean-François Denis, d'une banque de données portant sur cette collection, Kevin Austin répertorie les collections de l'Université de Toronto, l'Université McGill, Radio-Varsovie et les studios Columbia-Princeton.
Son engagement envers la communauté nationale et internationale ne se dément pas : il est l'« agent provocateur » de la liste de diffusion électronique cec-conference et membre du conseil de la CEC.
Kevin Austin, composer and teacher, founded the Concordia University Electroacoustic Studios in 1971. His creative activities run from live electronic improvisation to work with dancers, visual artists, studio composition and acoustic compositions.
He started a series of formal concerts in 1981 at Concordia and in the intervening 25 years co-founded the CEC with Jean-Francois Denis, and also from the early 1980s started the Concordia Tape Collection built on pieces submitted for the concerts. In the late 1980s after Jean-Francois had first databased this collection, he databased the collections of the University of Toronto, McGill University, Warsaw Radio and the Columbia-Princeton Studios.
His commitment to the national and international community remains strong as the agent provocateur of the email list, cec-conference, and a diminutive Member-at-not-so-large on the Board of the CEC.
Yves Gigon
Coordonnateur du projet / Project Coordinator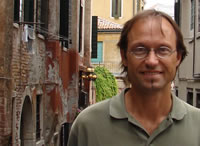 Yves Gigon est le webmestre et codirecteur administratif de la CEC depuis 1997 (le site web de la CEC fut lancé en 1995). Il est le responsable du projet SONUS depuis son lancement en 2003. En plus de coordonner la plupart de la production audio des trois séries de CDs de la CEC (Cache, PRESENCE et DISContact!), il est l'un des deux coordonnateurs/éditeurs d'eContact! et est le principal responsable de Jeu de temps / Times Play (JTTP), le projet annuel de la CEC de support et promotion des jeunes artistes sonores en émergence au Canada.
Yves Gigon has been the webmaster and Administrative co-Director of the CEC since 1997 (the CEC's website was launched in 1995). He has been solely responsible for the management and maintenance of SONUS since it was conceived in 2003. In addition to coordinating most of the audio production tasks of the CEC's three CD series (Cache, PRESENCE and DISContact!) since his involvement with the CEC, he is one of two Coordinating Editors for eContact! and is today largely responsible for the management of the Jeu de temps / Times Play (JTTP) project, the CEC's annual project to support and promote young and emerging sound artists in Canada.
Partenaires / Project Partners
Owner of the Collection / Propriétaire de la Collection
L'Université Concordia / Concordia University
L'Université Concordia a offert à la CEC un accès illimité aux archives et lui a accordé l'autorisation de restaurer, archiver et présenter la collection en ligne.
Concordia University has generously offered the CEC unrestricted access to the archive, and unconditional permission to recover, archive and present the collection online.
Partenaire technique / Technical Partner
Dominique Bassal (Studio Inverse)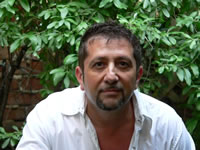 Responsable du processus de restauration de la collection, de son archivage dans un format durable et de la documentation du processus dans son ensemble.
Responsible for the delicate process of recovering the collection, archiving it to a sustainable format and documenting the entire process.
Dominique Bassal est connu au sein de la communauté électroacoustique internationale pour son engagement passionné en faveur du mastering en électroacoustique. Son document de 70 pages, « La pratique du mastering en électroacoustique » publié en français et en anglais dans eContact! 6.3 — Issues in Electroacoustics et sur le site MacMusic, de même que son prolongement multimedia, eContact! 9.3 — Mastering en électroacoustique : un état des lieux, sont uniques en ce sens. Depuis 2004, il est ingénieur de mastering de l'étiquette électroacoustique montréalaise empreintes DIGITALes, dont il a masterisé, en stéréo et en 5.1, l'essentiel des productions CD et DVD-A.
Des séminaires présentant ses recherches ont été offerts à Montréal (Symposium Harvest Moon 2004, 2005 et 2006, Université Concordia; Société des arts technologiques, novembre 2005), et à Londres (City University, janvier 2004). Durant l'automne 2007, Bassal a entrepris une tournée pan canadienne de séminaires de production électroacoustique, coordonnée par la CEC.
Bassal is recognized in the international electroacoustic community for his passionate advocacy of mastering in electroacoustics: his 70-page document, "Mastering in Electroacoustics" (in French and in English, published in eContact! 6.3 — Issues in Electroacoustics and on the MacMusic website) and its follow-up, eContact! 9.3 — Mastering in Electroacoustics: State of affairs (for which he was Guest Editor) are without parallel in the field. Since 2004 is the Mastering Engineer for Montréal's electroacoustic label, empreintes DIGITALes, alone responsible for the mastering (in stereo and 5.1) of most of their new CD and DVD releases.
Seminars concerning Bassal's research have been presented at conferences in Montréal (Harvest Moon symposium 2004, 2005 and 2006, Concordia University; Société des arts technologiques, November 2005), and in London (January 2004, City University). In Autumn 2007, Bassal led a series of "Electroacoustic Production Seminar-Workshops", coordinated by the CEC across Canada.
Partenaire pédagogique / Education Partner
Chantal Bénit
Création et coordination de l'équipe de développement des modules eLearning : rédaction, conception pédagogique du matériel, scénarisation, création et intégration des objets multimédia.
Oversee and coordinate the development of the eLearning modules: conception and development of pedagogical materials, content and script development, creation and integration of multimedia objects, and programming.
Chantal Bénit agit en tant que gestionnaire de projets liés à l'apprentissage depuis plus de vingt ans. Elle a développé une forte expérience en développement de matériels pédagogiques tant traditionnels que multimédia, en passant par la conception pédagogique, jusqu'à la direction, la coordination des équipes, l'évaluation et le suivi. Elle a contribué à la production de plus de 300 heures en ligne pour diverses organisations : Bell, Loto-Québec, Université de Montréal, la CSST, la SAAQ, l'Institut du commerce électronique et l'ENAP. En 2003, comme chargée de projets utilisant les technologies de l'information, elle — ainsi que ses collaborateurs — ont été récompensés par différents prix et mentions tels : OCTAS dans la catégorie e-formation et gestion des connaissances; MIM d'or dans la catégorie Éducation-Formation; Mention Or du prix Brandon Hall. En ce moment, elle est responsable des Projets spéciaux et de la Production pour le Cégep@distance. (Octobre 2008)
Chantal Bénit has worked as a pedagogical project manager for more than twenty years, and has extensive experience with both traditional and multi-media teaching methods and materials. She has contributed to the production of over 300 hours of eLearning for organizations as diverse as Bell, Loto-Québec, Université de Montréal, CSST, SAAQ, l'Institut du commerce électronique and ENAP. In 2003, in her role as Manager on projects using Information and Digital Technologies, she — along with her colleagues — received several mentions and prizes for her work using, notably the OCTAS, the MIM d'or (Education-Training category) and a Gold Mention for the Brandon Hall prize. Presently she is the Production Manager at "Cégep@distance", a Distance Learning institution.
Partenaire-traduction / Translation Partner
Yves Charuest
Traduction des notes de programmes et des notices biographiques pour les œuvres de la collection.
Translation of the programme notes and composer biographies for the works in the collection.
Yves Charuest est un musicien-improvisateur montréalais impliqué dans le milieu de la musique nouvelle depuis les années 1980. Il travaille également comme traducteur-pigiste depuis les années 1990 pour de nombreux artistes et organismes artistiques, notamment la CEC (depuis 1997) et le magazine torontois de musique nouvelle Musicworks (depuis 1996). Il a traduit de nombreux livrets de CD (Wreck's Progress, Darren Copeland, Hugh Le Caine, CEC, etc.), de même que des textes théoriques variés.
Yves Charuest is a Montreal-based musician involved in the Canadian and international new music and improvised music scenes since the beginning of the 1980s. Since the mid-1990s he has worked as a freelance translator for a range of artists and artistic organizations, including the CEC (since 1997) and Toronto-based new music magazine Musicworks (since 1996). He has done several translations for CD booklets of numerous composers, groups and individuals (Wreck's Progress, Darren Copeland, Hugh Le Caine, etc.) as well as theoretical texts.
Équipe administrative / Administrative Team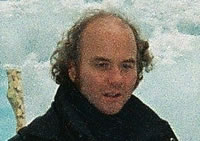 jef chippewa est un compositeur canadien dont les intérêts touchent notamment les concepts de conscience et d'identité culturelles. Depuis 2005, il est codirecteur administratif de la CEC en plus d'être le rédacteur-coordonnateur du bulletin électronique de l'organisme, eContact!.
Since June 2005 jef chippewa has been the CEC´s Administrative co-Director and has been responsible for the majority of communications sent out by the CEC to promote its various activities. He has also been the primary force in the coordination of eContact! and for managing the CEC's membership and communications with them.
Assistants à l'administration et la production /
Administrative and Production Assistants
Timothy Sutton, Kamen Zenov, Shane Turner, Milan Panet-Gigon
Relations avec les compositeurs, droits d'auteur, autorisations, photos, numérisation de documents.
Sorting, cataloguing and verifying works in the collection, photo documentation.

Timothy Sutton est un artiste sonore et un programmeur multimédia de Montréal. Sa production récente comprend des compositions électroacoustiques sur support fixe intégrant la synthèse numérique et des enregistrements de terrain, le développement d'un logiciel audio-vidéo, et la conception sonore pour des projets d'installation, de musique et de danse intégrant les supports sensibles. Il met à profit son intérêt pour les systèmes génératifs, le traitement de signal et l'extraction de caractéristiques dans des œuvres où l'emploi de microphones et de capteurs sert à épaissir et augmenter l'espace et le moment.
Timothy Sutton is a sound artist and multimedia programmer based in Montréal. Recent output has included fixed media electroacoustic compositions involving digital synthesis and field recordings, audio/video software development and sound design for installation, music and dance projects incorporating responsive media. His technical interests such as generative systems, signal processing and feature extraction are finding artistic applications in ongoing work using microphones and sensors to thicken and enhance spaces and moments.
Shane Turner s'intéresse à la dimension subjective du son et aux façons dont cette dimension influence les sens et la perception. Il s'est établi à Montréal en 2001 pour poursuivre ses études en musique électroacoustique à l'Université Concordia. Il participe à de nombreux projets de musique électronique, électroacoustique et de musique improvisée.
Shane Turner is interested in the subjective feel of sound and how it influences sense and perception. He moved to Montréal in 2001 to continue his studies of electroacoustic music at Concordia University, and is currently involved in electronic and electroacoustic music projects as well as live improvised music.
Originaire de Bulgarie, le compositeur Kamen Zenov poursuit des études de musique électroacoustique à l'Université Concordia.
Kamen Zenov is a composer and student in Electroacoustics at Concordia, originating from Bulgaria and living in Montréal.
Produit avec le soutien financier du Ministère du Patrimoine Canadien
Produced with the financial participation of the Department of Canadian Heritage